Article written by Julie Perren
Launching into the water in your own sea kayak after a break away is an ideal time to reassess if it's still the right kayak for you: does it still tick all the boxes, perform as you need it to and is it as good as you remember?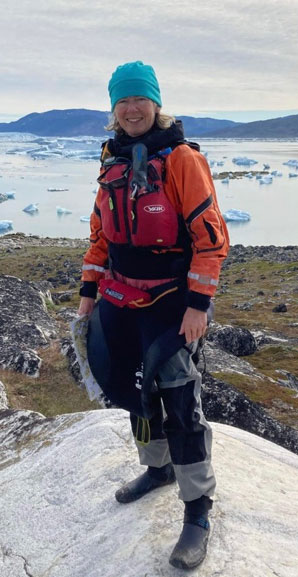 These were the questions I was asking myself as I got back into my Echo this summer after several expedition trips leading and peer paddling in Lofoten and Tromso, Norway and from Illulisat on the Western coast of Greenland. During this time I was mostly paddling heavily laden plastic boats that were made to fit 'most' people and designed for exactly this job. As a slim built person(I.65m and 55kg) these kayaks are generally too big for me but necessary work horses to carry camping and cooking gear with enough space for two weeks kit off grid in Greenland. Even paddling unladen plastic boats seems an effort and not as pleasing as a paddling experience could be.
When I looked for a new sea kayak for a slight female paddler back in 2012 it was hard to find anything that fitted the bill until I tried the Pilgrim Expedition (cutdown), which has been my trusty friend ever since and seen me through a range of courses and British Canoeing qualifications culminating in Advanced Leader. Although I live in Devon it has seen action across the country from the Scillies, Brittany, the Falls of Lora and in Anglesey too. With such a solid track record I didn't think that I'd find anything that would suit me so well until the Echo appeared on the market, specifically designed for people of my build.
Back in home waters I took my kayak out on a fact-finding paddle with another Echo paddler, Rosie Heath to compare notes, and to get a neutral viewpoint on its performance, (although as a SKUK sponsored paddler I wouldn't paddle a boat that I didn't believe in.) What a joy it was to slip into my dynamic Echo where I felt properly fitted, light and nippy, just like putting on your best fitting jeans when you know that they feel right and hopefully look good too! This kayak remains the perfect fit for me, and that total connectivity gives me the confidence to paddle into rough waters adding acceleration where needed, and with the secondary stability and familiarity of that SKUK hull shape that I have come to rely on in the Pilgrim Expedition (cut down) that I had paddled in the eight years previously. The Echo's comparatively smaller length 507cm(16ft 7") and good fit makes for easy turning and quick, sharp manoeuvres around the rocks and swell also especially noticeable in the wind. The seat is comfortable with the option of a back rest, which I chose to remove for easier re-entry rolling, and the angled cockpit back aids with lifting the boat to empty a flooded cock pit. Inside the cockpit I opted for footrests rather than bulkhead meaning that I am able to stretch out my legs in the centre of the boat but can still find the foot pegs quickly to brace swiftly when needed. I wear a size 7 wetsuit boot, which accommodates my dry suit, but foot size and footwear are a consideration when paddling a low-profile kayak. On a windy paddling day I find that the effective skeg deals well with varying wind strengths and directions and the kayak continues to handle as expected. The low profile also helps deal with wind and another advantage is the good flexibility of movement across the back deck to twist and roll. This versatile sea kayak is happy to punch through a chunky surf wave, loves to catch a wave into the beach and is playful in more challenging rougher waters. The Echo is an easy boat to handle off the water too with the full carbon lay-up (I weighed it at approx 20.5kg with hatches) making the loading process much easier to handle by myself.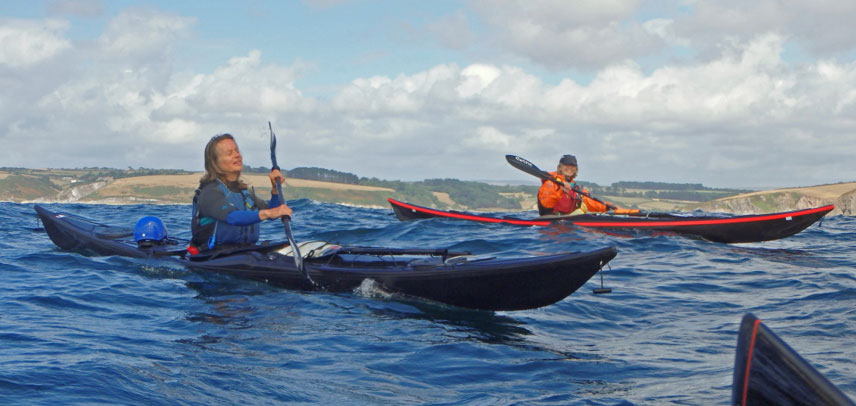 After the paddle Rosie shared her thoughts with me 'When I up-graded my low volume plastic boat for the Echo I was mostly looking for speed, and it is a fast boat to paddle. I was delighted to find I got so much more. It is an elegant kayak that is beautifully manoeuvrable and that really fits my physique as a smaller paddler. I swiftly found that my edging and turning really improved as the high degree of connectivity made applying all that I had been taught work so much more effectively. It also rolls very easily and is a delight to surf. I find the cockpit very comfortable for extended paddles and was delighted to find I could fit all my camping gear in for a 4 day trip. The Echo has made me a better paddler and a very happy one!'
As a Performance Coach it is essential to have a kayak that I can rely on, a kayak that gives me the opportunity to focus on my student's without thinking about my own paddling. The Echo certainly provides this whilst allowing me to also enjoy peer paddling and although advertised as a day boat I have used it for short overnight camping trips and packed everything needed into it with no problem.
So did the Echo pass the paddling reassessment test? You can bet it did and I am pleased to report that it fulfils the brief for me as the ideal day trip kayak with the possibility of an overnight camp too and my much used Pilgrim Expedition (now no longer available in the cutdown version) is getting dusty in the garage as the Echo has taken over as the day to day kayak of choice. It's a kayak I always look forward to paddling and it brings a smile to my face on the water which has to be the sign of a good sea kayak!